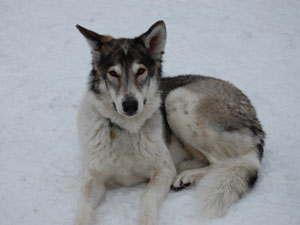 Age: 2 Years
Sex: Female
Size: Large
Congratulations Harley!!!
Click here to check out my video on YouTube!
Harley is thought to be a Husky/Malamute/Shepherd mix. She also closely resembles the Native American Indian Dog (NAID). Whatever her breed(s), this two-year-old is a wonderful, gentle girl we have fallen in love with. Due to her size (85 pounds) Harley will be best in a home with a sturdy six-foot privacy fence to keep her safe and sound.
Harley was turned in by a family that was no longer able to care for her and she quickly made friends in rescue. She is a social girl and gets along with the other dogs and enjoys playing a bit and then making herself comfy on a blanket or better yet, curled up on the couch with a human friend. Harley is trustworthy in the house, however, is a curious girl and loves to explore. Counter-surfing is quite easy for Harley due to her height and any temptations must be safely put away.
Harley loves car rides, walks and snuggling down for some quality time. If you have room in your home and your heart for this gentle giant, please ask us more about Harley.
[smooth=id:92;]