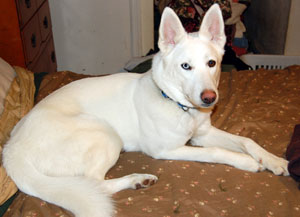 Age: Approximately 2  Years
Sex: Female
Size: Average
Congratulations Victoria!!!
Victoria is a beautiful white Siberian Husky/German Shepherd with a soft, luxurious coat and bi-eyes (one brown eye and one blue eye) who is approximately two years old. She somehow lost her family along the way and found herself as a guest at the shelter. When we met her we immediately knew she was a wonderful girl that needed a little help to find her second leash on life.
Victoria ~ Vicky to her friends ~ is a very social girl with both other dogs and people. She enjoys a good romp with her canine friends and then quality time with the rest of the family. She has great qualities from both breeds in her. All she needs now is a forever home she can love…
If you are looking for a lifetime companion that will love you just for being you, please ask about Miss Victoria!
[smooth=id:94;]