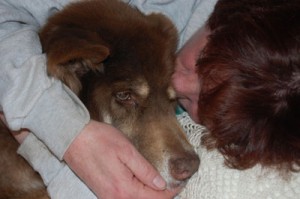 Hello Pups –
I am very sad to have to share with you that our Lucky has begun her final journey North of the Rainbow Bridge.
When we were contacted about Lucky, her human Mom was already in the hospital and there was nobody left to care for Lucky and her canine siblings. Since the other pups were younger, they were easier for family members to place. However, Lucky at 12 years old, was much more difficult. When she joined her foster home, Lucky made no waves with the other dogs in the house. She simply observed their interaction with each other and the humans in the house. This wallflower wouldn't seek out attention from humans, but would tolerate their touch (only for a short time) until she retreated to her safe zone.
In September, Lucky came to the Farm. Her first mission was to find her safe zone, which turned out to be the upstairs bathroom. She came downstairs to eat and go outside, but usually spent most of her day in her safe zone. Frequent visitors to the Farm giving her gentle pets and kind words started to help Lucky come out of her shell. She slowly starting to seek out attention from her visitors.
Lucky was definitely a peanut compared to the rest of the pups at the Farm, weighing in at only 32 pounds. However, that didn't stop her from bulldozing her way through a crowd of huskies to get wherever it was she was going.
In December, we began to realize that Lucky's health was slowly deteriorating and we felt it was time for her to enter MaPaw's hospice program. Her foster Mom made her all of her favorite foods ~ chicken, mac & cheese, bread and lots of special treats.
In the last 2 weeks, she was having trouble walking and her eyes said that she was getting tired. On Saturday, it became clear that Lucky was ready. Surrounded by those who love her, Lucky passed peacefully.
Wear your silver harness proudly, dear Lucky. We miss you terribly, but you are free of pain. Now you can run and play as a young pup. There were many waiting to welcome you at the Bridge. You will forever be in our hearts.
~ Scout