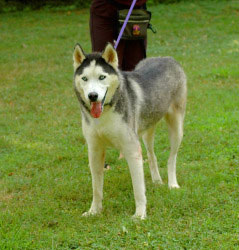 Sirus has been an integral part of our family for only six short months, but he has perhaps made them the richest months in our life.
When we were given the privilege of adopting this wonderful, gentle and loving Sibe we were well aware that, because of his condition, he was going to require special care and dedication and that he may not have had a long life expectancy. Despite all, we feel that he has given us much more than we ever gave him, because we have been blessed by the unconditional love of this wonderful Sibe who took just a few days to become an integral part of the family, pack and environment.
Sirus quickly learned to love to go for walks with his Sibe pal Bella, lay close with his pals and loved to get his special treats. Often in the evening he would just drop his head in my lap and expect a good and hard scratch on his neck and chest. Almost invariably the ritual would end with Sirus slowly dropping on to the floor right at or on my feet where he would take a well deserved rest.
Sirus loved to help babysit the grandchildren with Bella; he was the kindest companion and playful pal a child could ever have; he quickly formed a very special bond with them. It was just amazing to watch him play with them and see him at his best as the perfect family pet: sharing food, laughter and precious play time with them.
We learned very quickly, coming back home after a long day at work, to look forward to that very special and heart warming experience of being welcomed by Sirus' loud baritone Sibe howling and wonderful charge toward the front door, leading the pack and looking for a hug and some very intense petting. These may appear to be very routine things, but they are the essence of the relationship between us and our special four legged friends: it was Sirus' way to show us his love and affection.
After a few hospital trips late last year and early this year, Sirus had a wonderful long stretch of seizure free time. Unfortunately, the seizures returned and, despite the many attempts that the neurologist who took care of him tried to keep his condition under control, he spent the last few days experiencing a series of endless seizures that made him suffer and rendered him very incapacitated (seizures and medication induced ataxia).
Sirus did spend his last hour with us and his beloved pal Bella: while still sedated because he was coming out of a seizure, he seemed very happy to have everybody there with him and enjoyed immensely the special treats, the petting and hugging and Bella's companionship. He slipped very peacefully in the early morning hours of May 16 to North of the Rainbow Bridge where he will be free to roam with all the other Sibes who have gone there.
Our only consolation is that now our fur-angel can finally run and play North of the Rainbow Bridge free of any pain.
We cannot express enough our thanks to MaPaw for everything they do for Sibes in need and to Sirus' foster mom, Kim. They made it possible for us to experience the wonderful gift of his love and companionship.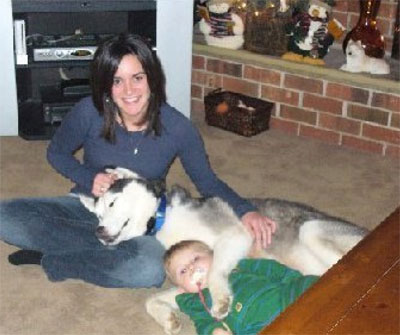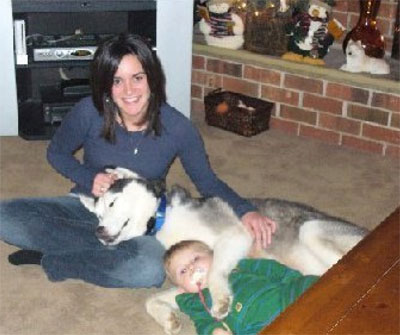 Sal, Brenda, Cara, Bella and Vito