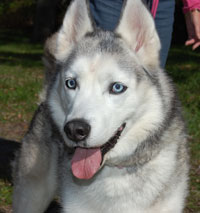 Age: 11 Years
Sex: Female
Size: Average
Staying with her Family
Sadie is a classic grey and white Siberian Husky full of energy and spunk. At twelve years, she has put the puppy pranks aside but she still enjoys walks, car rides and hanging out with her family.
Sadie is a curious and friendly girl who is happiest when she is with someone nearby. She would be best placed in a home with a retired couple or someone that will not leave her for more than several hours. In return, you will have a best friend for life that will absolutely love you and always be at your side.
Sadie is wonderful with people and older, calmer dogs she can play with and share doggy times. She is very frightened of loud noises such as fireworks, thunder and gunshots. She is a proud wearer of the Thundershirt, which helps her with her confidence.
If you are looking for an old friend to feel comfortable with and share good times, please ask us about Sadie. This lovely lady may be just what you are looking for!
[smooth=id:75;]