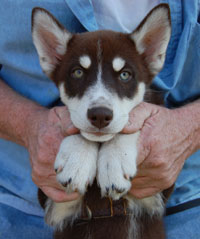 Age: 13 Weeks
Sex: Male
Size: Small Now, But Getting Bigger Every Day
Congratulations Morgan!!!
Click here to check out my video on YouTube!
Morgan is 13 weeks old and simply full of himself! He is a happy boy and full of puppy power and energy. He will only be adopted out to a sibe/dog savvy home with another canine playmate and a sturdy fenced area to keep him safe and sound.
Morgan is crate trained and doing very well on his housebreaking. He is a smart boy, he already knows to sit for a treat! He will require a lot of dedication, time and patience to help him develop into a wonderful lifelong companion.
If you are ready for a serious commitment and ready to devote a lifetime of love to Morgan, please contact us to learn more about this little guy.
[smooth=id:76;]