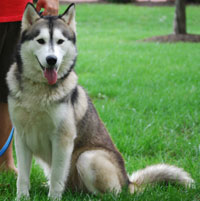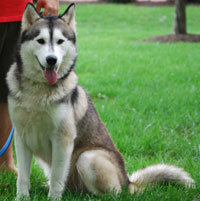 Age: Approximately 2 – 3 Years
Sex: Male
Size: Large
Congratulations Boomer!!!
Boomer is a very handsome Siberian Husky/Alaskan Malamute who is the best of both breeds. He is a big boy weighing in at 65 pounds and is estimated to be two to three years old, but his exact age is unknown as he somehow lost his family.
Boomer was placed in our local shelter where he was cared for in the hopes that his humans could be found. Unfortunately, no one came to find him and our big boy was starting to get depressed. When we went to meet Boomer, it was love at first sight and we immediately knew this was a great dog that needed our help.
Boomer has settled into foster care and is quickly making many friends – both those with two legs and four. He is an even-tempered boy who is both playful and enjoys being a couch potato. He loves to cuddle and is very generous with kisses! He has a beautiful voice and woo-woos.
Boomer is crate trained and knows his basic commands. He loves walks, riding in the car and being with family. All Boomer lacks is a home to call his own. If you are looking for a new friend, please consider Boomer!
[smooth=id:74;]