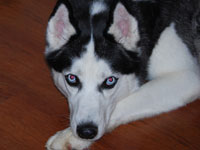 Age: 1 1/2 Years
Sex: Male
Size: Average
Congratulations Kai!!!
Click here to check out my video on YouTube!
Kai is a strikingly handsome one and one-half year old male Siberian Husky. To match his rugged good looks, Kai has an equally amazing personality – everyone who meets him falls in love!
Kai's favorite activities are trips to the dog park, sleeping on his dog bed, giving plenty of kisses, playing with his foster pups, and of course being loved by every person he can find! We believe Kai would excel in an active home where he can rough house with a canine companion (or more) and get lots of attention and love from his human family. In addition, due to his activity level and size, we feel that Kai would be best placed in a home with older children.
Kai is completely housebroken and crate trained. He is respectful in the house and eager to please (always a great trait in a Siberian). Kai is just an all around wonderful guy looking for a forever home where he can be a Very Important Pooch.
[smooth=id:73;]