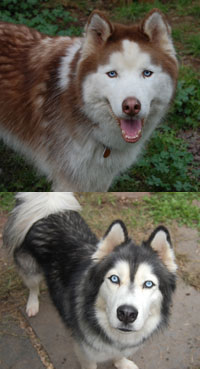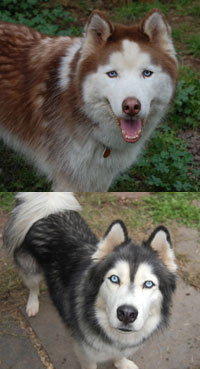 Age: Approximately 5 Years/Approximately 6 Years
Sex: Male/Male
Size: Large/Average
Congratulations Joshua and Samson!!!
Meet Joshua and Samson. These boys have been bounced around quite a bit in the last couple months, but are now settling in their MaPaw foster home. Joshua (the red/white guy) and Samson (the black/white guy) have lived together all of their lives and are a bonded pair that must be adopted together.
Sadly, their Dad returned home from serving his country only to find major changes in his life. He was so happy to see his "boys" again, however, he knew he must be fair to them and arrange to provide a good life for them ~ even if it could not be with him. After hearing their story, we knew that Joshua and Samson needed MaPaw and we wanted to help Dad know his boys would always be cared for and loved.
Joshua is almost five years old and Samson is almost six. Both handsome boys are long-haired huskies or "woolies". They absolutely love each other and are great with people. They are good with other dogs, however, due to their incredible bond they are best with each other and we feel they would be best in a home by themselves.
Joshua and Samson are well behaved, housebroken and trustworthy in the home and will certainly liven things up with friendly romps and games. Typical of the breed, they will counter-surf if given the opportunity and can dig a crater in no time flat so a secure and reinforced fence will be best to keep them safe and sound.
If you are looking for a "ready-made family" and have room in your home and heart for these two great guys, please contact us. We are getting to know them better each day and would love to tell you about them!
[smooth=id:71;]