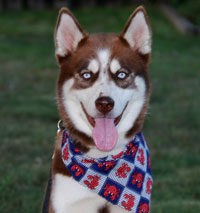 Age: 1 Year
Sex: Male
Size: Average
Congratulations Sarge!!!
Click here to check out my video on YouTube!
Sarge is a stunning red and white Siberian Husky with hypnotic blue eyes born on July 27, 2009. Unfortunately, his prior owners were not ready for the challenge of a Siberian puppy and we welcomed Sarge into the rescue, knowing we will find him a wonderful home that has the time and patience to help Sarge grow into a mature, wonderful companion.
Sarge's favorite things include: romping around with his canine buddies, trips in the car, going for walks and all the love and attention he can get. After a good day of play with canine friends, Sarge loves to snuggle up at your feet while you watch TV. Overall he is just a really, really great dog – we just can't stop saying nice things about him!
Sarge loves people, both male and female dogs, and kids. He is fairly laid-back for a one-year old sibe, but would definitely benefit from having a canine companion as a playmate and to keep him company when his human family is away. He is trustworthy in the house (for a husky) and crate trained. He also listens very well and is eager to please – which is always a great quality in a Sibe!
[smooth=id:70;]