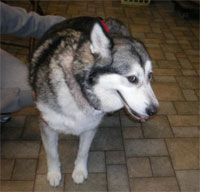 Age: 6 Years
Sex: Female
Size: Average
Courtesy Post for Delaware AMAL Rescue
Congratulations Nola!!!
Meet Nola – a beautiful Alaskan Malamute that is approximately 6 years old. Nola is a survivor! First it was hurricane Katrina and now it is the economy. The supposed to be forever home is no more. Foreclosure earlier this month put Nola back looking for a home. Have you ever seen a 40 year old man cry as his malamute was leaving him? She is fully vetted, heart worm negative and human friendly; not at all with dogs. However, at the boarding kennel, where she now lives, she has taken a liking to the Akita next to her. Do you need a best friend? Nola does!
Nola is a courtesy posting – if interested in knowing more about this amazing dog, please email Catherine at Delaware AMAL Rescue at ccarocoho@aol.com or call 302.328.6093.
[smooth=id:69;]