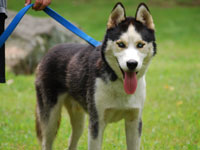 Age: Approximately 1 1/2 Years
Sex: Male
Size: Average
Congratulations Blaze!!!
Click here to check out my video on YouTube!
Blaze is a handsome black and white Siberian pup born on May 1, 2009. He is one of our new kids on the block and we are happy to meet him!
Blaze came into rescue when his owner did not have enough time for him and wanted him to have a home where he could be part of the family. Blaze was an outside dog and is currently being crate trained and learning to live inside with his foster dad and two other huskies/malamutes.
Blaze is a very social fellow – he enjoys playing with other dogs and loves dog parks, going for rides and doing anything that involves being with people. True to the breed and his young age, Blaze is very active and will benefit from a canine playmate and a sturdy six foot fenced yard to play in. He is currently working on basic obedience and manners and needs a home that will guide him and train him.
If you are looking for a friend to get you out of the house and enjoy life, Blaze just might be the perfect match for you!
[smooth=id:68;]