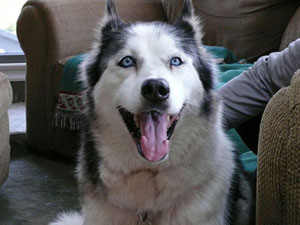 Age: Approximately 13 Years
Sex: Female
Size: Average
Our dear Triska has begun her journey North of the Rainbow Bridge. She joined her MaPaw foster home almost 2 years ago and quickly won the hearts of her foster family. Her family worked with her to gain her trust and her true personality soon showed ~ wonderfully loving and sassy! Sadly, she was no longer able to get up on her own and was clearly uncomfortable and distressed. She passed peacefully surrounded by love and showered by tears. Dearest Triska ~ Wear your silver harness proudly dear friend. You can run once again free of the pain that held you back. You are greatly missed. We mourn your passing, but celebrate the time we were lucky enough to spend with you. It's not goodbye dearest friend, simply until we meet again. ~ 6.15.2012
---
Triska is a striking Siberian Senior with a sad tail… For unknown reasons she found herself at a shelter and very depressed. No sooner than Triska came into MaPaw and started settling in, seizures began. We are very happy to report that she is now regulated with Phenobarbital, an inexpensive seizure medicine, and is currently seizure free! Paws crossed!
Triska has been through a lot and was very sad when we first met her. We will never know her past and it has taken months of devotion and love, but Triska is now a happy girl. She loves walks and visiting parks and has a beautiful voice. She will gladly join in any discussion, especially "when is dinner?".
Triska has now been diagnosed with Cushings Disease and this has been more challenging and expensive to treat. She has been placed on a new medicine, Trilostane, which we are hopeful will stabilize her. This wonderful girl has come so far and has blossomed into a sweet and sassy senior and we are happy to be able to help her with your help. It does come with a hefty price tag, in 13 months her bills and medicines have exceeded $5,000.00. Knowing she is happy and will always be so ~ priceless!
[smooth=id:58;]