Hello Puppers ~
Check out MaPaw's newest addition…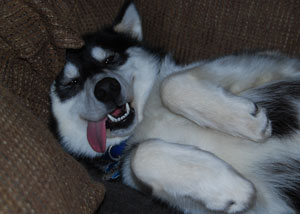 This sassy young lady is Duchess! Here's another photo of her right side up ~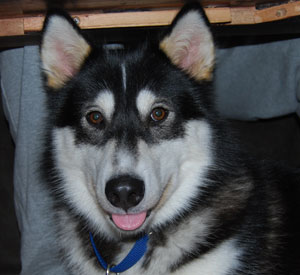 Duchess had been adopted and returned to the shelter 4 times ~ you read that right ~ 4 TIMES!!! Why? For being a typical Husky youngster ~ she was too hyper! The shelter felt she would have a better chance of finding her furever home if she joined MaPaw and we agreed so we got her out of that shelter and into a foster home as quickly as we could.
It took Duchess a minute to introduce herself to her new foster siblings before a game of "Chase Me" started. After a good hour of running about in the yard, Duchess was finally ready to jump up on the sofa and take a nap.
Her foster Mum says that she is a real sweetheart!
We don't yet have her on the MaPaw site, but she should be up soon. So be sure to check back!!
BTW ~ many of us on the East Coast are getting hit with another snowstorm. I can't wait to run around in the fresh stuff tomorrow!!
~ Chloe