It is never easy to say goodbye to a friend…
Many of you may know Flora from this photo: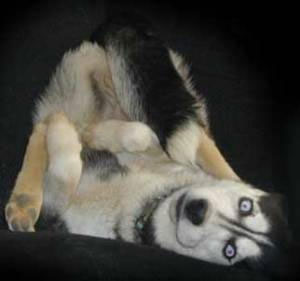 Flora originally joined MaPaw almost 10 years ago when she had been found as a stray. Shockingly, her family had never come forward to take her home. It didn't take Flora long to make herself comfortable in her foster home and she quickly won over her foster sibelings (even Harley!!). With her awesome fun-loving personality, we knew it wouldn't take long for Miss Flora to find her furever home and we were right…Her foster family decided that she was already at home and formally adopted her.
A few months ago, Flora wasn't feeling quite like herself. Several trips to the Doctor yielded no answers, so Flora's Mum chose to take her to University of Penn. After several days there, Flora's family got the news that nobody wanted to hear ~ there was nothing they could do, but take her home and spoil her. And that's exactly what they've done.
On Wednesday, Flora did Husky zoomies around the yard in the little bit of snow covering the ground. For dinner, she had one of her favorites ~ bologna!!
Yesterday, Miss Flora was clearly tired and was ready for her final journey North of the Rainbow Bridge. Her family is so very sad and they miss her terribly. Please keep them in your thoughts.
~ Chloe