Hello Puppers ~
Just wanted to introduce you to MaPaw's newest member ~ Skamp…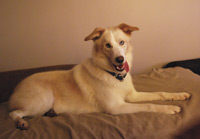 He's a very handsome 1 year old Husky mix with lots of puppy energy! He had been at a local shelter patiently waiting for his forever home, but people kept walking right past him. We just don't get ~ he's such a cool guy!
We are happy to welcome him to the MaPaw family!
He's settling into his foster home and getting to know his foster siblings. He loves to play, play and play some more – but will gladly cuddle with you on the couch too. He's such a friendly soul and he hasn't met a person or pup that he hasn't made friends with.
We are still getting to know Skamp, so be sure to check out his bio for updates as we get to know more about him.
~ Chloe