Hello Puppers ~
Check out this handsome fella….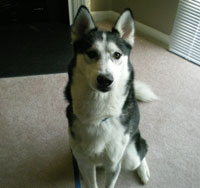 This is Indian. He's estimated to be 2 to 3 years old. This young man somehow lost his way and found himself at the shelter. When the shelter contacted us and asked for our help, we were so happy that we could find open foster space.
Once he joined his foster home, Indian quickly made friends with his new foster siblings. In fact, he makes friends everywhere he goes!
He's a tall and lanky guy who is full of energy. He loves to play and is quite the snuggler!
Check out his video on YouTube!
~ Chloe