Hello Puppers ~
You may have noticed that Tucker wasn't on MaPaw's site for a very long time.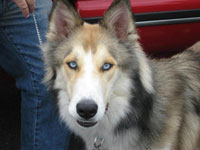 As you may remember, Tucker came to MaPaw because his family's situation changed and they were no longer able to give him a suitable home. They were heartbroken, but out of love for their pup, did what was best for him. We promised we would find him a great home where he would spend the rest of his life being loved and spoiled.
He settled into his foster home very quickly. He took no time at all to find the pup willing to play and play and play.
One of our foster homes saw his photo and just couldn't stop staring into those beautiful blue eyes. Once she met Tucker at a meet and greet, she knew that he would be the perfect fit for her home. Soon after, Tucker made his way to his furever home where he has 2 fur siblings. The best part is that Tucker now gets to help pups in need just as he was helped. He'll be able to show the new guys (and gals) the ropes. Judging by his fun-loving personality, he'll probably be the one chasing the new foster pups around the yard in a great game of chase.
I don't think we could have found a better home for young Tucker. He now has a big brother and sister who love him. Not to mention that he is so very spoiled by his foster Mum. We can't wait to see his "official" adoption picture!!
Congrats to Tucker, Axle, Tinkerbell and Kelly!!
~ Chloe
PS ~ There's only 5 more days until Hike N Howl 2009! Join us on October 10th at Tyler State Park (Hickory Nut Picnic Grove) in Newtown, PA from 10 am – 3 pm. Rescues, pet-related vendors, CGC testing, Sled Dog demos, basket raffles and so much more!!!