Chooey came to MaPaw after authorities had removed him from his home where he spent every day of his short life chained to a tree with no food, water or shelter. He was so very thin when he reached his foster home. His foster Mum couldn't wait to shower Chooey with the love and attention he had never experienced. He was such a fast learner and was housebroken in no time.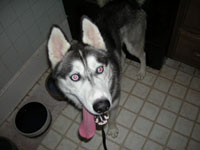 Chooey turned out to be the perfect house guest. He got along well with the other pups in his foster home. Luckily, he hadn't lost that puppy personality. Surprisingly, Chooey remained with his foster home for much longer than we had anticipated. We had updated his pictures and added a video, but he still waited for his furever home. We now know that he was simply waiting for his perfect furever home.
Caroline instantly fell in love when she saw Chooey's profile on the MaPaw site. When she finally got to meet him, she couldn't wait to take him home. On March 29th, Chooey became a city boy and got a new name ~ Beau.
On July 25th, Beau became a certified therapy dog after completing an intense 7-week training program. Congratulations Beau! We are so proud of you!
~ Chloe
Hike N Howl 2009 is just days away! There's something for everyone at this year's Hike N Howl! We can't wait to see you there!!