I know I promised that I would have a Happy Tail posted for every day of October since it's Adopt-A-Shelter-Dog month. I haven't had time to post in the last couple of days cause we were so busy getting ready for Hike N Howl 2009!
Hike N Howl was this Saturday (October 10th) at Tyler State Park in Newtown, PA. The day started off with some rain, but that didn't stop our friends from coming out to the park to have lots of fun with us. We had a great time catching up with old friends and making plenty of new ones!
Hickory Nut Picnic Grove was busy with pups playing and showing off for each other. We hope that some of the available pups that joined us in the park will soon have Happy Tails of their own!
Check out the Hike site ~ we'll be adding photos from this year soon.
I'll share one Happy Tail with you although it's not really a surprise for those that know RJ and his foster parents….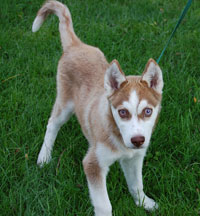 RJ came to MaPaw in August and his foster family quickly fell in love with him. They decided to make it official and adopt the little guy. This lucky little boy found his perfect furever home!
Congrats to RJ and his family!
Now that we have finally recuperated from all of the fun on Saturday, I'll get back to posting a new Happy Tail each day of October.
~ Chloe