Kenya found his way to MaPaw after a good samaritan witnessed him being pushed out of a car onto her property. She couldn't believe her eyes and as the pup made his way toward her house, she noticed that his walk seemed a bit off.
Upon closer inspection she noticed that he was actually missing one of his rear paws! It looked as though he had been missing the paw for a while and he didn't seem to be in any pain. She contacted MaPaw and we quickly brought him into rescue.
When his foster Mum picked Kenya up, she was greeted with lots of Husky kisses. When she brought him back to her house, he quickly settled in and made himself quite comfortable as you can see…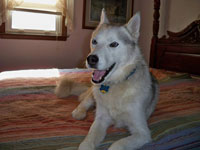 Kenya has such a great personality and is everyone's friend!
We were so excited for him when he was adopted in August of this year. You can tell by the big Husky smile that he is quite happy in his new home.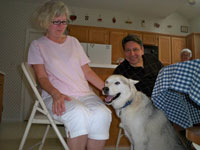 Congrats Kenya!
~ Chloe
Hike N Howl 2009 is fast approaching…
Join us in Tyler State Park on October 10th ~ meet Rescue pups, check out pet-related vendors, Sled Dog demos, raffles and so much more…