We are so happy to report that sweet Buster has found his furever home!
Although Buster's family had already submitted the application to adopt him before the Hike, they decided to stop by and meet him in person at the Hike since they knew he would be there. When they got to meet him, they knew Buster would be the perfect fit for their home! They just couldn't wait to introduce him to Mo and Minerva, their 2 German Shepherds.
On Monday, Buster made the trip to his furever home. Everyone got along so well ~ it was like Buster had always been there.
He just looks so darn happy!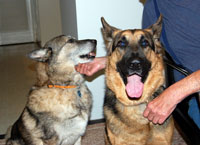 Congrats to Buster!! We look forward to updates and photos!
~ Chloe