Hello Puppers ~
Meet the newest redhead on the block ~ Triton!
Look at that handsome guy!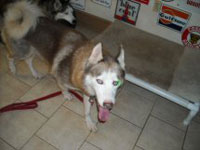 Triton was found as a stray and his family never came to the shelter to take him home. Can you believe it?
This guy charms everyone he meets and is making friends everywhere he goes.
Check out MaPaw's site for updates as we get to know Triton!
~ Chloe