Hello Puppers ~
I love ~ love ~ love happy tails. And it doesn't get much better than this!
We first met Mischa at the Hike N Howl. Her Mum, a fellow rescuer, had to move unexpectedly and could not take Mischa with her. Determined that she wouldn't take Mischa to a shelter, she chose to kennel her. She visited Mischa frequently, but knew that she would do much better with a family. We fell in love with her as soon as we met her. We knew Mischa was a special girl.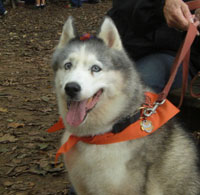 This 12 year old spunky gal also won the hearts of Chris and Ed. They already had an approved adoption application and had come to the Hike to meet Casino. After hearing Mischa's story, they knew they wanted to open their home to her. Soon after the Hike, Mischa moved into her new home. She has settled in nicely and is so happy to be part of a family again.
Casino joined MaPaw earlier this month. He had been found as a stray and somehow he was overlooked, spending over a month in the shelter. When a MaPaw volunteer evaluated this handsome fella, he passed with flying colors. The Husky smile on his face when he joined his foster home was priceless and a great reminder of how important the foster homes are to these guys.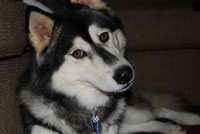 Once Mischa was settled, Chris and Ed thought that she would enjoy a sibeling. So they decided to adopt Casino as well!
Woo woo! We are so happy for both of these pups! Congrats to Mischa, Casino and their new family!!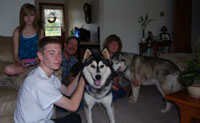 We look forward to photos and updates!!
~ Chloe