Good evening Puppers ~
When we were contacted about Max, we knew that we had to help this handsome pup. We had been contacted by a shelter ~ Max had been struck by a car and unfortunately, his owners never stepped forward to take him home. Without the means to provide the necessary surgery to repair his broken leg, the shelter turned to local rescues for assistance.
All of the rescues contacted worked together and luckily, MaPaw was able to make sure Max got the surgery he so desperately needed. A call was put out to our volunteers and so many stepped forward to play a role in his journey.
Here's a photo of Max, taken by Janet, the morning she picked him up to take him to the orthopedic surgeon's office.
Her concern about how she would get him to the car quickly disappeared when she saw this pup bounding toward her with a neon green cast on his leg! Clearly, his injuries could not dampen his spirits! He was a great passenger as he made his way to the surgeon's office.
Janet checked him in and we all waited on pins and needles to know that he was out of surgery. Finally ~ the news we were all waiting to hear. Max was out of surgery and it was a success. Our broken pup has now become our bionic pup after the addition of a plate and some pins.
After his overnight stay, he was ready to journey into Pennsylvania to meet his temporary foster home. Deb picked Max up from the surgeon's office and brought him to her house for a few hours. Here's a photo of him settling into his crate (and yes ~ that's a bag of frozen peas).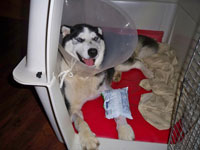 Hazel and Gary picked Max up to take him to his temporary foster home with Ann, Tom, Loki and Cody. He settled in for something good to eat…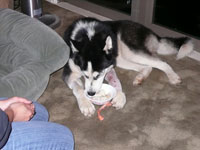 Throughout his travels, he has been a model patient. He certainly has taken advantage of all of the attention and pets he gets while his leg is being iced…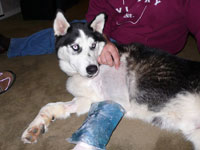 Later this weekend, he will make his way to his foster home. His foster family will have the challenging task of keeping young Max quiet for the next 6 – 8 weeks while his injuries heal.
Max greets everyone he meets with Husky kisses and is making friends everywhere.
Thanks to all of our wonderful volunteers that stepped forward to help him! We are so glad that he's here and we can't wait to share updates with you as his recovery progresses!
Woo woo and welcome to you Max!
~ Chloe