Good morning Puppers ~
Meet RJ ~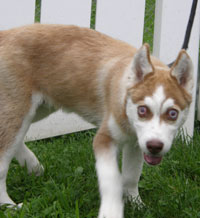 This sweet little boy joined MaPaw on Friday and has been making himself very comfortable at his foster home.
As you can see in the picture, RJ's eyes are bulging. Before he came to MaPaw, he was being treated for an eye infection. Today he will be visiting the eye doctor so we can find out exactly what's going on with this poor boy's eyes. We want to get his treatment started so we can get him on the road to recovery!
We're keeping our paws crossed and sending RJ lots of sibe vibes!
Check back for an update once we get the diagnosis from the Doc!
~ Chloe