Hello Puppers ~
RJ had his appointment with the eye doc on Monday. In true cute Husky puppy style ~ he charmed everyone he met!!
How could you not fall in love with this pup?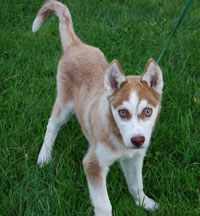 RJ has been diagnosed with uveitis, which is an inflammation of the middle layer of the eye. This condition was caused by an untreated infection early in his life, probably starting in the umbilical cord. This caused pressure in both eyes which led to the collapse of both optic nerves. While he may be able to see limited shadows, the Doc doesn't think that he sees much of anything.
The Doc seems to think that if RJ ever had sight, it was most likely during the first month of his life.
He's got some medication to keep the pressure in his eyes down. If we are able to keep the pressure in his eyes down for the next 30 days, there's a good chance that we can help him avoid developing glaucoma.
Even though the wee Pup can't see, it certainly hasn't slowed him down. Don't believe me? Check out his video!
Enjoy!
~ Chloe