Hello Puppers ~
I just love to post about happy tails and this one is so stinking awesome!!!
Each week, a bunch of our volunteers take to the internet and check the website listings of all of the shelters within our adoption area looking for shelter Sibes and Sibe Mixes. Since we don't have enough room to bring all of them into MaPaw, it is our hope that by listing all of the pups in one place they will get more exposure to families looking specifically for Sibes or Sibe Mixes. Of course, we love it when a MaPaw pup finds his/her furever home, but sometimes our dogs may not be a perfect fit whereas another pup in a shelter might.
Pauly is a shining example of why our volunteers dedicate their time each week to check the area shelters. He had been listed on our Shelter Dogs Page when he was first seen by Bella's family. You may remember Bella, a black and white beauty that was adopted earlier this year. Unfortunately, her sibeling passed away and she was quite lonely. Her family felt that Bella really needed a playmate, but they wanted to make sure that they found the perfect one for her and for their family. After weeks of looking, they saw Pauly and decided to meet him. Here's a pic of him from the shelter ~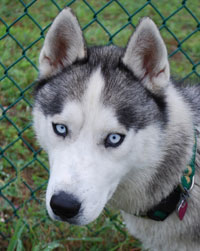 Bella and her family fell in love with him. He is now called Hunter and has proven to be a wonderful addition to their family!
We are so excited for Bella, Hunter and their family! We hope to see pictures and updates soon (hint hint)…..
~ Chloe