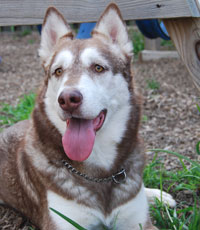 This redhead with the golden soulful eyes is Dakota, who is estimated to be 4 to 5 years old. Before he joined MaPaw, he was 1 of 9 Huskies living in a home where they were left for days without food and water. Unfortunately, they never received the type of socialization that we Huskies thrive on.
When Dakota joined MaPaw, he was very shy and had no confidence. Thanks to the love and dedication of his foster parents and foster siblings, this handsome boy is gaining more confidence every day. He has learned to trust humans again and enjoys their company.
Even though Dakota has made such great progress, he is still quite timid when he meets new people. Once he learns to trust you, he is a loyal companion for life. He's looking for a special family that understands how special Dakota really is.
We are so proud of his accomplishments and are excited for him to find his furever home!
Click here to learn more about Dakota!
Check out his video!
~ Chloe