Hello Puppers ~
I wanted to introduce you to the newest addition to the MaPaw family. Meet Diesel….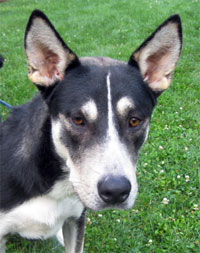 He's approximately 1 year old and was relinquished by his owners due to an undiagnosed allergy. My Mum picked him up yesterday and took him straight to the vet. It turns out that this poor guy was infested with fleas (yuck!). The vet thinks that this could be the reason for his flaky skin and patchy hair loss. MaPaw got him started on some flea/tick stuff and we'll give him a nice long bath to help soothe his dry skin.
As if the fleas weren't bad enough ~ this poor guy is underweight. I could count his ribs just looking at him! That makes me so very sad…
He's a great dog and couldn't wait to say hello to everyone he met. He is such a cool guy (and handsome too…) and we can't wait to get to know him better!!
Welcome Diesel!
~ Chloe