Good evening Puppers ~
Guess what happened today…..
Come on ~ guess…..
Give up? Okay, I'll tell ya….
Our favorite 3-pawed pup, Kenya, has found his furever home!!!
Here's a photo of Kenya with his new family. Look at the big smile on his face!!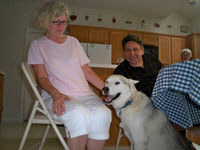 Congrats Kenya! We hope to see updates and pics soon….
Woo Woo!
~ Chloe