Hello Puppers ~
This weekend, MaPaw welcomed another pup into the family. Our newest member is a blue-eyed beauty named Shelby. This sweet girl has been bounced around a lot already in her short life due to her misunderstood Husky ways. Luckily, she found her way to MaPaw where we're used to the mischief Huskies can get into.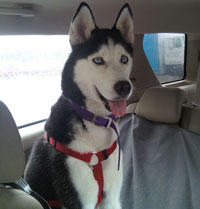 At 13 months, Shelby is full of puppy energy and will need some training and guidance along the way.
Welcome Shelby! We look forward to helping you find your furever home!
Be sure to check Shelby's page often for updates as we get to know her better!
~ Chloe