He's handsome……
He loves everyone he meets……
He's playful……
He has a super sweet disposition….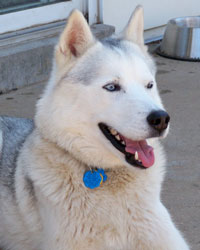 He's Kenya ~ our 3-pawed pup.
Ya know ~ we just can't figure out why this guy is still searching for his furever home. He plays well with the other huskies in his foster home, but prefers people attention more. He doesn't jump up on people or counter surf (like many huskies love to do). He enjoys going for walks or runs with his foster Mum, but tires faster than his 4 pawed friends.
The vet seems to think that Kenya was born with only 3 paws. He gets around well and people can't believe how fast he can run!!
We know you'll love his as much as we do!!
~ Chloe