Ask any rescue and they'll tell you that their most important asset is their network of foster homes. MaPaw is no different…..
Many times MaPaw is a dog's last option. We never like to say no, but the unfortunate truth is that sometimes there are just no open foster homes. It is the most difficult thing to say no when you know that you are the dog's last hope for a second chance. It doesn't matter how long you've been in rescue ~ 1 day, 3 months, 20 years ~ it NEVER gets easier to say no to a dog. A dog that has been a loyal companion to his family for 10 years and then suddenly finds himself abandoned at the shelter with no idea why he's there and why they aren't coming back for him. A dog that is tied out with no human interaction, no shelter and limited food and water for his whole short life and just needs some time to learn how to be part of a family. A dog that was used as a breeder and taken to the shelter when she could no longer produce litters.
Maybe you're wondering why I'm writing about foster homes. The simple answer is that our foster homes are a huge part of why we are able to do what we do. Truth is ~ if it wasn't for my foster home I don't know where I would be. You see I was picked up running down the side of a road and once nobody came forward to take me home, MaPaw was contacted. Luckily, there was an open foster home and I moved right in. I was lucky that I didn't have to spend a long time in the shelter, but I can tell you it was definitely long enough!
Maybe you're saying, "Chloe ~ what do foster homes do?". Foster homes open their home to a pup in need. Some pups might need help learning their basic manners (sit, down, etc.). Some pups need help with their house training. Some pups are already crate trained, while others may need help learning about the crate. Some pups come into their foster home and just need love. Not all of our pups are from the shelter, owners do contact MaPaw directly to get help for their pup. Some pups stay only a short time before they find their furever homes, while others are longer term fosters.
Now you're probably saying, "Chloe ~ what happens if I do foster and I just can't let my foster dog go?". That happens. Some of our foster homes have actually failed Fostering 101, which is what we call it when a foster home adopts their foster dog. Sometimes it means we lose a foster home, but that's okay cause we know that another one of our pups found a great home!
I've been involved in rescue since 2001 and I was my Mum's second foster dog. My Mum failed one other time and that's where I got my brother, Scout. We've had a couple of other pups stay for a little bit while they waited for a foster home to open up. I have to say that it feels pretty good to help a dog that is in the same situation that Scout and I were both in before we came to MaPaw.
My big brother, Niko, was very close to dying before his foster Mum stepped in and took him from the shelter. You see Niko's leg had been broken and was severely infected. He probably wouldn't have survived at the shelter much longer. His foster Mum took him straight to the vet where he had his front leg amputated. That was 8 years ago. Today he is a happy pup that spends most of his day napping on his bed.
If one of our foster homes hadn't stepped forward for poor Buster, I don't want to think what would have happened to him. He had already been at the shelter for a month and nobody even looked at him. He had been with his family for his entire life ~ 10 years. Now he is resting comfortably at his foster home on a comfy bed that soothes his old bones.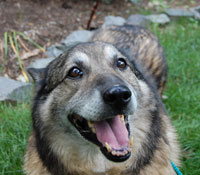 Both Halo and Timber had been picked up as strays and the shelter was overflowing. We had only 4 hours to find foster homes for both of them and we were ecstatic when two of our foster homes stepped forward. Halo has been adopted to a wonderful family where he will be loved and spoiled for the rest of his life. Timber is in a great foster home and is waiting to find his furever home.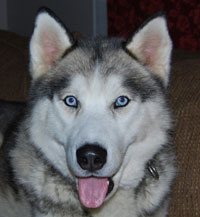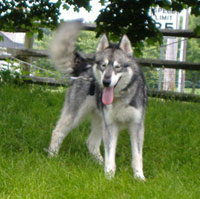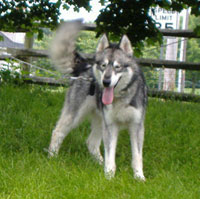 Spencer had been a junkyard dog that was underweight, filthy and had a horrible haircut because he was so matted when he was removed by the authorities. Thanks to his foster family, Spencer has a clean, healthy coat and is finally part of a family! He so deserves to find a furever family and he is patiently waiting.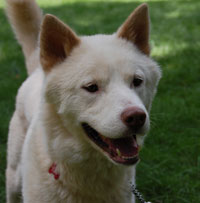 Tundra, Dakota and Gabe were removed from a home along with six other Siberians because of neglect. They were timid and afraid of human contact. Tundra was the quickest to recover and has now found his furever home where he is part of a family that adores him. Gabe was adopted by his foster family and is making progress every day. Dakota has come so far since first joining MaPaw. He is currently looking for that special home that understands him and his needs.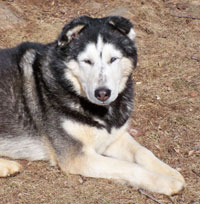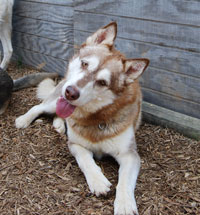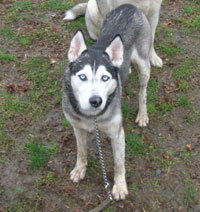 I could go on and on, but I think you get my point. We have an incredible group of foster homes, but we can always use more. The more foster homes we have ~ the more pups we can help.
If you are interested in becoming a foster home or want more information about becoming a foster home, go to www.sibes.com.
~ Chloe