Good evening Puppers ~
On Saturday, Tex and his foster Mom Bernie traveled to Quakertown to attend the Quakertown Pet Fair hosted by Quakertown Veterinary Clinic. Tex and his friends worked really hard to make sure the MaPaw table was perfect. They did such a great job!!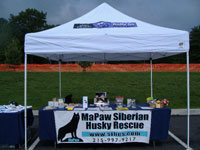 Our table was buzzing with activity. Kenya brought his foster Mom Deb. Van brought his foster Mom Bev. MaPaw friend, Faith, brought her Mom Kathy to spend the day as well. By all reports, they had a great time!!
Here's Tex after they finished putting the table together. His eye seems to be getting better and he is really coming out of his shell.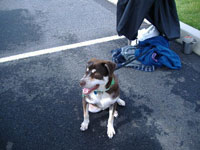 The weather was beautiful and there were plenty of visitors throughout the day. There was a very special visitor – Miss Cocoa! She looks fantastic! We hear she's been learning lots of new tricks and behaving herself.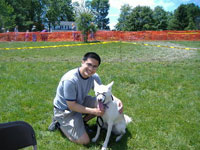 Thanks to Quakertown Veterinary Clinic for hosting such a wonderful event. Our pups had a blast!!
Poor Kenya was so tired…..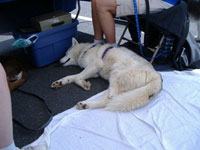 ~ Chloe