That's right ~ our Tyco is ready to find his furever home!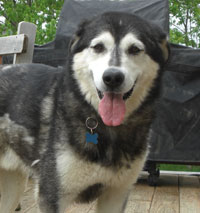 Tyco has been with MaPaw for about 3 months now. When he first joined our family, he had tested positive for both Lyme disease and heartworm. As if that wasn't taxing enough on this poor guy's spirit, he was also underweight and shy.
He has successfully completed his heartworm treatment and has been given a clean bill of health from his doctor. Thanks to his foster Mom and Dad's TLC, Tyco has put on some much needed weight and gained his confidence back.
He adores people and wants nothing more than to be by his human's side.
We are so very proud of Tyco and all of his accomplishments!
Click here to learn more about Tyco.
Check out his movie on YouTube!!
~ Chloe