Good evening Puppers ~
I have exciting news ~ we have a new family member!! Her name is Karita and her life before MaPaw is a mystery. It was initially believed that she was almost completely blind. However, we think she may be able to see more than was originally thought. The only way to know for sure is to get her to the vet, which is next on our to-do list for this sweet gal.
Here's a photo of Karita strolling around the yard: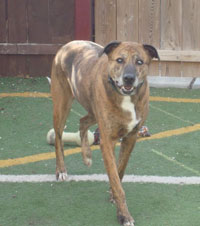 There's no need to adjust your screen ~ Karita is not a brindle Husky! We know that there is probably not even a smidge of Husky no matter how hard you squint, but we just had to help her when we found out about her.
Please check out MaPaw's site, www.sibes.com, for updates as we find out more about Karita's eyes and learn more about her personality!
~ Chloe