Good evening Puppers ~
Do you remember Chooey? Well…..
He found his furever home in New York City! That's right – our Chooey is a city boy now! And along with his new home came a new name ~ he is now known as Beau. We think his name is perfect for him!
Here's a photo of him at the park. Just look at that smile!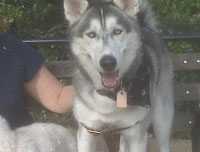 His new Mom, Caroline, takes Beau to doggie daycare during the day while she's at work so that he doesn't have to be alone. At night, he gets her undivided attention. He enjoys walks, dog parks and outdoor cafe dining.
He sure is one lucky pup!!
I love happy tails!
~ Chloe