Yesterday, a few of MaPaw's fosters, alumni and their friends got together at Dogtown for some good old husky playtime. We had 18 dogs running about!!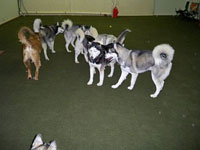 Brandy, Tundra, Juno, Killian and Shiloh stopped by to say hello to the MaPaw fosters. Each of them had once been a MaPaw foster as well and now each had their furever home. In fact, Tundra traveled along with MaPaw foster, Cota and new gal, Foxy (see tomorrow's blog for more info about her). Juno brought along his foster brother, Kenya, so everyone could meet the cool 3-pawed guy. Shiloh brought his foster brother, Ray, to join in the fun. Killian heard there was husky fun to be had and couldn't stay away!
Axle has hosted his share of MaPaw fosters and has joined in the husky fun (although he is only an honorary husky), so he brought his foster brother, Blitz. Both boys met their new foster sister, Bella (Bellana is her real name and check out tomorrow's blog to learn more about this beauty). Van stopped in to say hi and get some pets.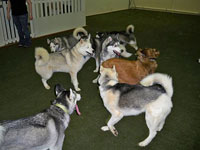 MaPaw friends, Ben and Jerry also stopped by to run around. We were very happy to meet them and we hope to see them at the next play date.
As the Husky festivities began, 2 more pups asked if it would be okay for them to join in as well. Since we huskies love to play, the more the merrier!! So Toby and Precious joined in the great Husky chase!! We really hope they come back for our next playdate!!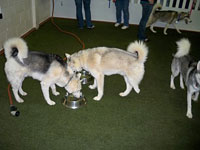 Not only did we have fun running around, chasing each other and getting pets from the humans ~ Chooey met his new Mum and got to go to his furever home. His foster Mum was very sad to see him go, but she knew that his new Mum would take the best care of him. We can't wait to get updates about Chooey from his Mum.
I can't wait to hear about next month's play date!!
~ Chloe