Brandy is a very sensitive little girl who needs someone who understands her personality and quirks. She is a very special girl and she needed a special family that understood exactly what she needed to feel safe and comfortable.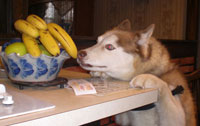 Because Brandy is so sensitive, her foster Mom decided that the best home for her would be right where she was. We were so excited to hear that Miss Brandy had found her furever home! Rachel is a very loving and patient Mom who will take wonderful care of Brandy. We can't wait to hear updates on how Brandy is doing and hopefully we will soon get an adoption picture of the happy family (hint hint)!
Congratulations to Brandy and Rachel!!
~ Chloe