Good evening Puppers ~
So today I was trying to figure out what I was going to write about in tonight's blog. No matter how hard I tried, I just couldn't come up with anything. I suddenly realized that I was exhausted, so I thought that maybe if I took a little nap, I'd be able to come up with something good.
As you can see, I rested……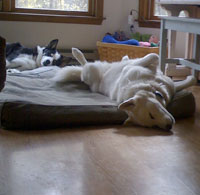 But still couldn't come up with anything. Oh well.
Hopefully this weekend I'll be able to talk about some lucky pup or pups finding their furever homes. Keep your paws crossed….
~ Chloe