Hello Everyone and Pups ~
I am sooo excited I just can't keep my tail still! First my royal nose smells SNOW is coming soon! Mom says they could be wrong, but I caught her charging up the camera. Anyway… let's all hope!
The BIG news is about two new MaPaw sweeties named Tabatha (10) and Sabrina (9). Miss Tabatha is laid back and calm and Miss Sabrina is a pipsqueak! They joined us MaPaw pups a couple of weeks ago and they are both so very nice, BUT they aren't staying with MaPaw…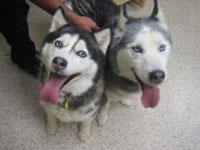 Seems Tabatha and Sabrina came to MaPaw to find their forever mom right away. And she is an Angel among the Seniors! We all talk about the lucky ones that Linda has adopted. And Tabatha and Sabrina will join her on Tuesday ~ Lucky Girls!
We wish the girls ~ and Linda ~ sibe vibes for their new life. We will miss them and wish we could have had more time to play, but they have such an exciting life and home waiting for them. We are all doing the happy husky dance!
Drive safely Heather and Justin as you take the girls south to Linda. May you all have a safe journey. We are all hoping and dancing for the snow, but hope it will wait until your travels are complete. Tabatha and Sabrina, you are so lucky! Don't forget to send woo woos with all the news!
Love ~ Chloe
PS ~ everyone knows there are Chloe twins, but only one is the Fairest Princess. Can you tell us apart???? We will keep you guessing as long as we can!