Hello Puppies,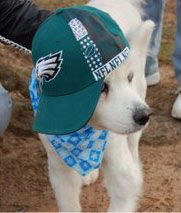 Hope you all have been having fun and keeping your paws warm!
Most of you know our friend Phoenix that came into rescue ~ he is the sweet blind boy that use to live in a junkyard with only feral cats as friends. Well, Phoenix had a very busy day on Wednesday.
When he came into MaPaw Siberian Husky Rescue he was sooooo matted his foster mom and dad had to take him to the groomer and he had to be shaved! Then we found some lumps and bumps on him and wanted to have them checked out. The good news is that he is just fine!
Next Phoenix was off for a very special visit with the eye doctor. Everyone was so impressed with our little boy and how well he behaved! The news wasn't everything we had hoped for though, not only does Phoenix have cataracts but glaucoma as well which is causing him discomfort. The good news is Phoenix has two special angels named Alexis and Bob, who have arranged for Phoenix to have surgery. A portion of both eyes needs to be removed to relieve the discomfort and then replaced with prosthetics so they will look more natural. Our heartfelt thanks go out to Alexis and Bob for helping our special boy and to wonderful Dr. Gross at Metropolitan for offering a generous rescue discount.
Now, some people would feel sorry for Phoenix and I have to admit we all hoped he could see again. But Phoenix told me he is just fine and knows he is loved. In fact, he thinks he gets extra attention because he is special! He hopes he will be adopted one day and go to live in his fur-ever home, but he is very, very happy in his foster home and knows he will always have a place where he is loved.
And Phoenix asked me to tell everyone he said FLY EAGLES FLY! Even a blind dog knows a winning team!
Husky Hugs,
Chloe