Good evening Puppies ~
I thought that I would start off today by formally introducing myself to you all. My name is Chloe and I'll admit I look strikingly similar to my namesake, Princess Chloe. However, between you and me ~ she's almost a whole year older than me!! As I posted yesterday, I'm an Eagles fan so it's only fitting that I post a pic of myself in my Eagles tee. Oh yeah ~ that goofy looking guy in the other photo is my bro, Scout. He's an Eagles fan as well, but he can be a little shy when it comes to getting his picture taken. Check out those ears ~ I can tell you from experience that they are so much fun to chew on!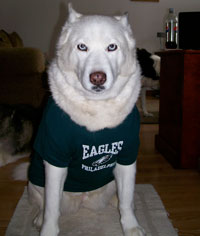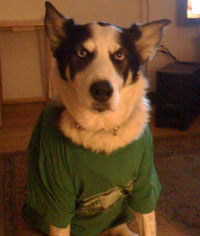 Anywho ~ enough about me. I just wanted to take this opportunity to wish our friend, Phoenix, lots of luck with his doctor appointments tomorrow. First, he's going to the vet to have a couple lumps on his belly checked out. Then he'll be making his way to the eye doctor to have those cataracts checked out. Boy does that sound like a full day to me. Hopefully he can talk his foster Mom into a special treat…
Also, we got word today that there is a birthday tomorrow…. Happy 8th Birthday to Yasha and Yuri!!!