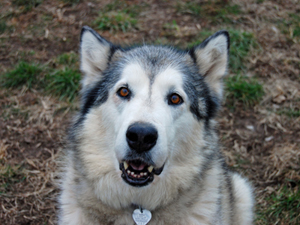 Age: Approximately 9 – 10 Years
Sex: Female
Size: Large
Congratulations Shawnee!!!
Shawnee is approximately 9 – 10 years old and is an Alaskan Malamute. She is a very large girl and her last weigh in was just over 100 pounds. Sadly, her human dad left one day (in an ambulance) and she doesn't understand why he didn't come back to her.
We welcomed her back, but she was depressed and confused. Her foster home has showered her with lots of TLC. She has come out of her shell and seems to be enjoying life again.
This brown eyed beauty is a somewhat calm gal that is best with male dogs her size or even larger. She is wonderful in the house and she can never get enough attention (in her mind).
Shawnee is a mooch and any food in her reach is fair game. She is a bit of a chunky monkey and could shed a few pounds ~ after the holiday season, of course.
If you are looking for a big friend with a gentle heart, this girl may be just the right one for you…
[smooth=id:198;]