Age: 7 years
Sex: Male
Size: Average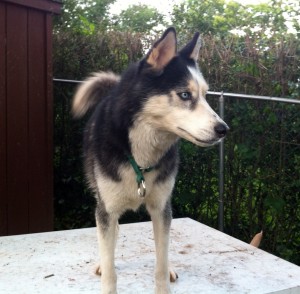 Congratulations Nanook!!
Nanook is a very handsome black and white husky with irresistible freckles on his nose and baby blue eyes.  He is six to seven years old and is a very laid back boy who loves to lie around with his friends.  He is a great cuddler, gives lots and lots of kisses and is happy to lie at your feet.
Nanook must find a new home due to life changes with his current family.  They are heartbroken to see him go, but they love  him so much and feel this will best for him..  He is great with kids and loves other dogs similar to his size.  He loves to snuggle on the couch or bed with you and watch movies.  He doesn't care what he watches, as long as he is with his person(s).
If you are looking for a mellow guy to be a forever friend, Nanook just might be the perfect fit for you.