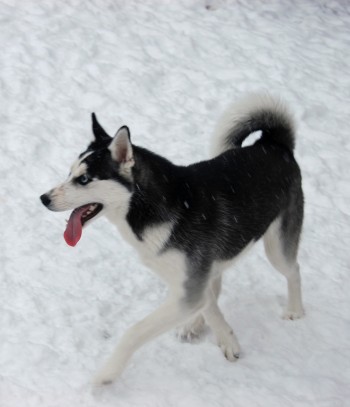 Age: 7 months
Sex: Female
Size: average
Congratulations Mya!
Mya is a lovable  and sweet 7 month old puppy that is looking for a perfect forever home.  She came into rescue due to an unexpected change in the family's life.  Her previous family rescued her from a situation that was not suitable for Mya.  Unfortunately, they were unable to keep her and asked us to help re-home her.
Mya loves Kongs filled with peanut butter and this keeps her occupied when alone.  She loves to steal makeup brushes when you are getting ready for the day – make sure they are put away if you like them.  She is the first to greet you at the door to welcome you home.  She loves car rides and will put her head on your shoulder.  This girl loves to play with other dogs and then be right by your side for quality time.
If you are looking for a sweet and playful dog, Mya could be a good match for you.  Due to her age and energy level, she would be best placed with another active dog her size and a fenced in yard to run and play in.