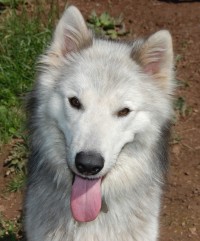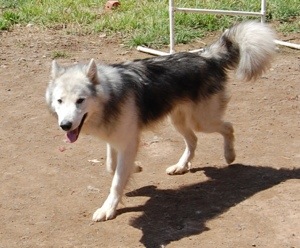 Congratulations Buddy!!
Age: 1.5
Sex: Male
Size: Large
Buddy is one and one-half year old husky mix (Great Pyr perhaps?) that just want to have fun. He is a happy-go-lucky pup that loves to play with other dogs and then enjoy people company. Poor buddy was in a home with another dog that did not like him and Buddy became fearful of the resident dog.
Buddy is a playful youngster that will benefit from basic manners ~ He loves everyone and gets so excited he will jump up to meet you "face to face". Buddy needs an active home and would be best with another dog to play with or a person that will take him for long walks, jogging, etc. His prior records indicate he will become anxious when left alone and a canine companion will keep him company.
Buddy is still very much a puppy with a high energy level. If you are looking for someone to be part of your active life, please ask us more about him. Everyone needs a Buddy in their life!