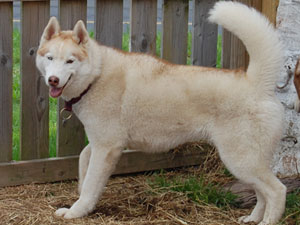 Age: Approximately 3 Years
Sex: Male
Size: Average
Congratulations Indy!!!
Indy is one of those fantastic Siberians that just wants to be loved. He is approximately 3 years old and likes the company of other dogs, however, his favorite pastime is cuddling with his human friends and hanging out with them.
Indy is a light red and white husky with bi-eyes, one blue and brown. If you look closely, his left eye is known as a parti-eye ~ mostly brown, but with a speck of blue.
Indy is a calmer husky that enjoys car rides and is always excited to go for a walk. He would be good as an only dog if in an active home with lots of attention. If you are looking for a fun-loving companion to spend time with, please ask us about Indy!