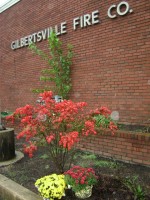 On 3/23/13, MaPaw hosted our Third Annual Beef & Beer Fundraiser at Gilbertsville Fire Company.
We had so many amazing donations which filled our raffle baskets ~ everything from dog toys and treats to chocolate for the humans. A great selection of silent auction items from a basket of cheer to handmade jewelry. We can't forget about our amazing selection of baked goods that our volunteers baked and packaged for humans and canines.
All of those that attended enjoyed great conversation with friends, new and old, and even some dancing to the tunes provided by our DJ.
Throughout the night, a slideshow was created by our volunteer's & shown by Denise Stout. It reminds us of all of the pups we have had the pleasure of meeting on their way to their forever homes. Thanks everyone!
A huge thank woo to our sponsors for their support, to all that attended for their support and to all of our volunteers that worked tirelessly to ensure that our event was a successful night!
[smooth=id:212;]